Sweets creator cineca produces and sells her confections at places such as ilove.cat festivals, Shibuya Parco and Tegamisha's 'GOOD FOOD MARKET' and 'Tokyo Flea Market.' She lives with her beloved cat, Teto, who has also made an appearance on our 'Snapshots' page. Cineca's unique, cat-themed confections, such as 'Yuru Neko Cookies' and cat-food themed 'kalikali' sweets have become very popular. We talked with cineca about her beloved cat, movies and the goodies she bakes.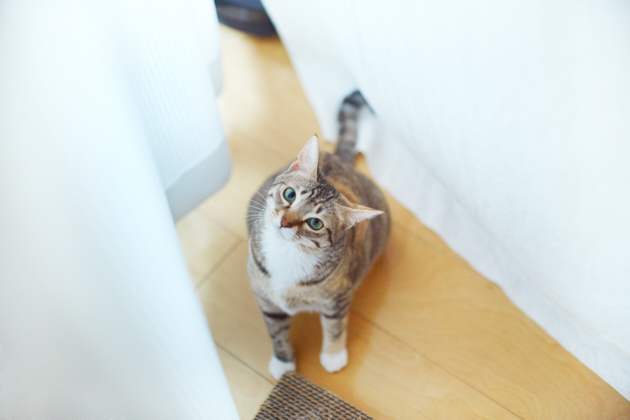 A beloved cat reincarnated!?
- How did you first meet Teto?
"There's a diving shop in Tateyama, Chiba that I've visited many times over the years with my mother. I found Teto abandoned in front of the shop inside of a cardboard box. She jumped up on my shoulder as soon as I opened it. She was just like character Teto from the manga 'Nausicaa of the Valley of the Wind.' She was just about three weeks old at the time. On the box, somebody had scrawled, '4649' (homophone for Japanese word 'yoroshiku' – or 'It's up to you'). Whoever did that was irresponsible beyond belief. The shop kept her for a while and looked for a foster family. Coincidentally, the day we found Teto was the anniversary of our former cat's passing. So my mom was like, 'It must be the reincarnation of our last cat, you have to take her!' Since my parents had another cat at their house already, I decided to take her home with me. My mother reassured me that she would look after Teto whenever I became busy."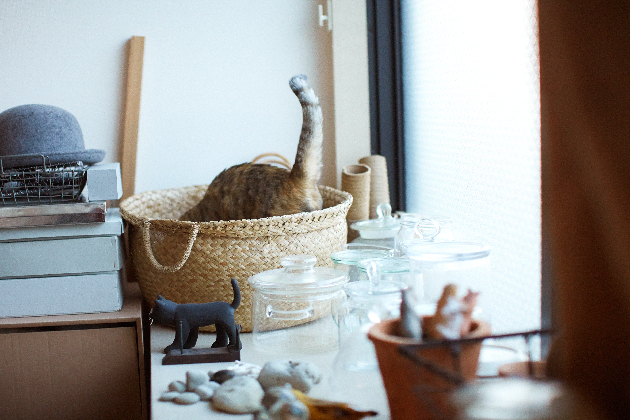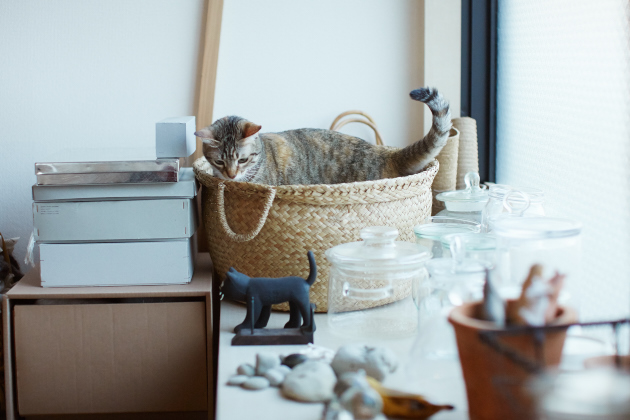 - Had you always had cats at home?
"At my parents' house growing up, we had as many as three cats at once. So living with cats is a very natural state for me. The cat that had recently passed away was named Daikichi. He was such a funny character - we all loved him so much. So when we lost him, we were all very sad. It was exactly a year after his passing when we encountered Teto. The funny thing is, they even physically resemble each other. And now that I think of it, their characters are also quite similar. So maybe Teto really is the reincarnation of Daikichi."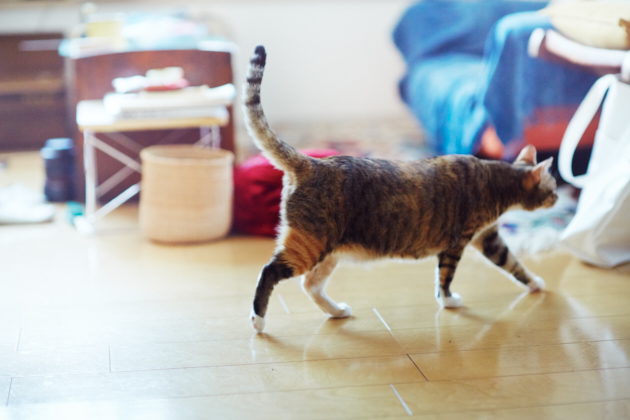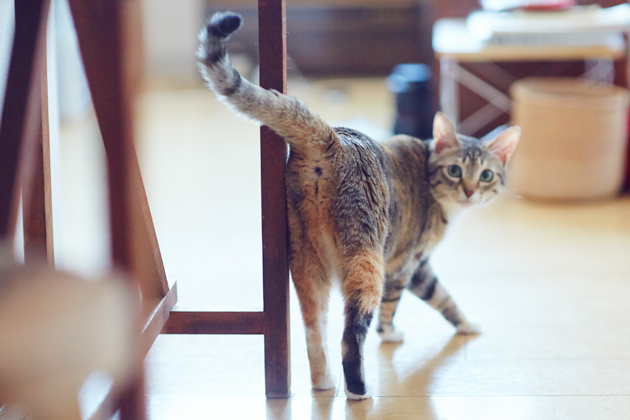 - What kind of personality does Teto have?
"She's naughty and gluttonous. She's also quite boyish. But she also has a delicate side. For example, if she finds cookie crumbs, she does the sand-kicking thing with her hind leg. She doesn't even try to eat it. And if she discovers something unusual, she just kicks sand. Maybe she just likes being tidy, or even fastidious. If I forget to clean her litter box, she'll stay in front of it and just keep kicking at the sand. It's like she's complaining to me, 'It's not clean!' She won't stop until I clean it."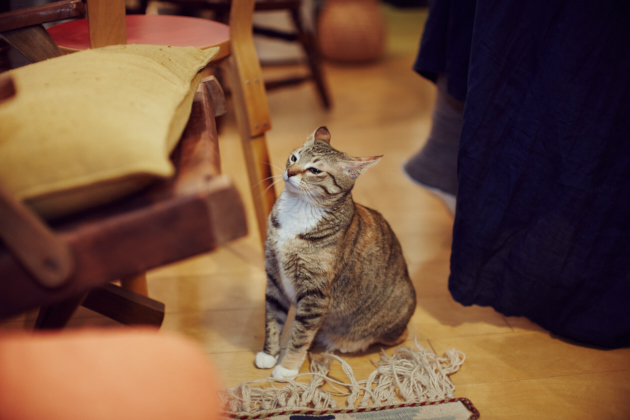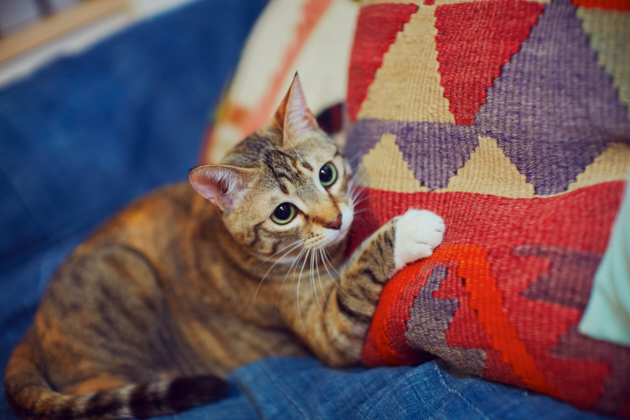 - Even though she's being photographed, she just keeps on playing…
"She loves to play, and she will keep playing on and on. Typically, cats get bored or tired after a while, don't they? But Teto will go on forever. People will get tired before she does. I had a chance to talk with Mr. Saito, who is studying cat behavior at Tokyo University, and he suggested that Teto's behavior is a little bit similar to that of a Bengal, which is known for being a very active species. Perhaps she's got a little bit of Bengal in her blood. She's never had any serious illnesses, but I did find a bald spot on her belly just the other day. I immediately took her to a vet, only to find out that it was her belly button. I never knew a cat's belly button could be so visible, so I was kind of shocked."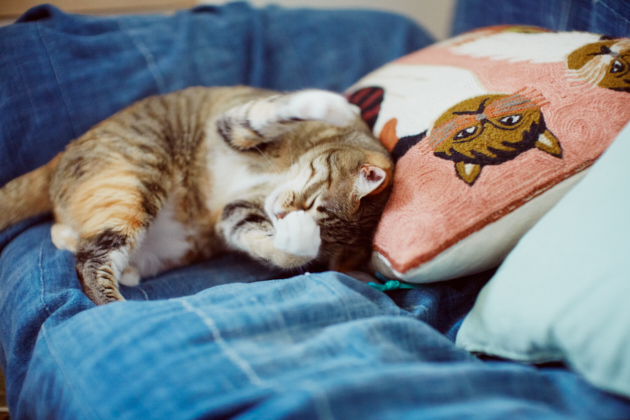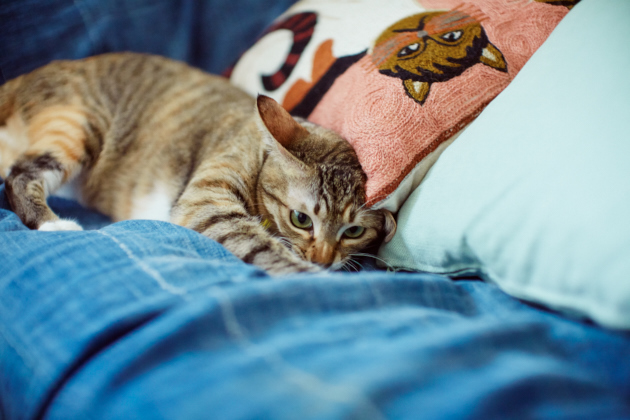 - Is it true that Teto can 'shake hands'?
"Yes. She is very smart. When I feed her, she gives me her hand. She learned how to open doors by putting her weight on the door handle while she was staying at my parents' place, and now she does that at home as well. She also stayed at Donko's house once. Because she was so young, she liked other cats and chased after them wanting to play. Donko was okay with it because he is a gentle cat, but it seemed that another cat there, Uzura, didn't like it much."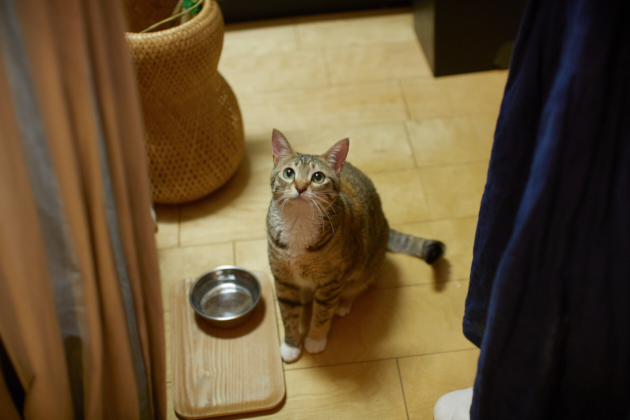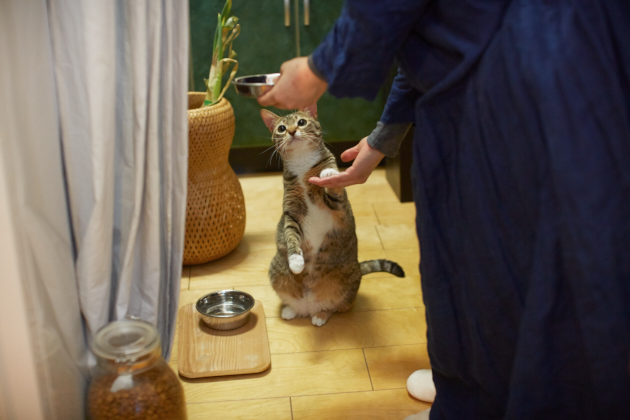 - How would you describe your relationship with Teto?
"She's kind of like a daughter, I suppose. It's completely different from the relationship my parents have with their cats. Nonetheless, Teto is a cat. She's not a human being. I hear some people say things like 'Oh this cat thinks it's a person.' But I've never felt that way about her. Teto does come up onto my bed when we go to sleep. So I bought her a tent to sleep in and told her to sleep in there. However, she never listens to me regarding things like that. She just loves people, and is naturally friendly and charming."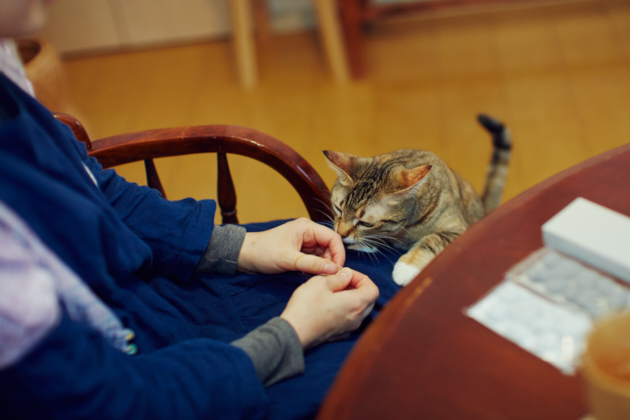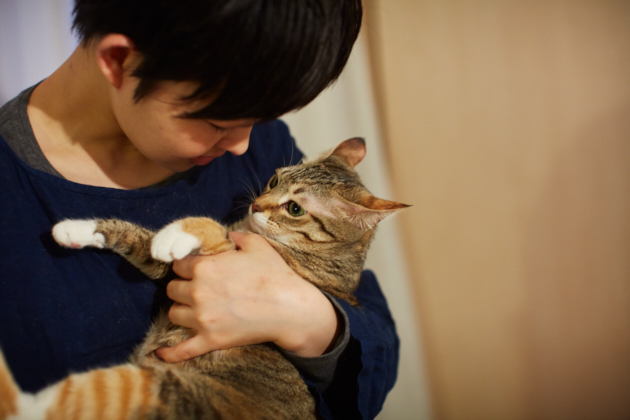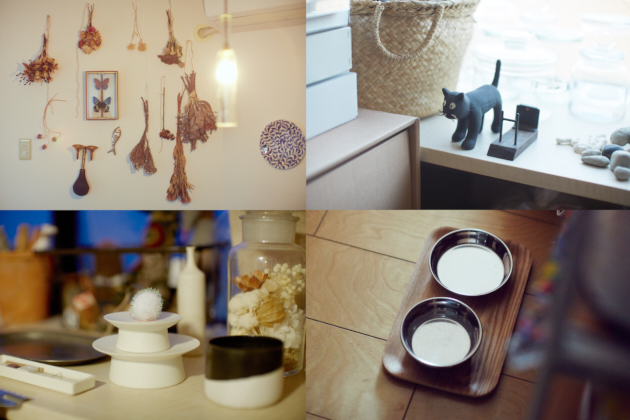 Creating Cat-themed Confections
- How did you come up with the 'kalikali' cookies? – They were a big hit at the ilove.cat festival.
"I was just starting up cineca when I was given the opportunity to sell cat-themed sweets at the ilove.cat festival. I love watching movies when I'm home, so I always have some DVD playing. I watch over 500 movies a year, which I think may be a bit too much. I especially like the movie called 'Le Placard,' which was directed by Francis Paul Veber. In the film, the main character picks up a kitten, which starts a sequence of fateful events that completely changes his life. And there's a scene where the kitten drinks some milk. As I watched the scene, I realized that the cat must have grown up because she's now eating 'kalikali' (dried cat food). That's when I started to think that 'kalikali' could be an interesting motif. To me, the fact that there's a nationally common term for cat food - and cat food only, is quite interesting. If you think about it, we don't call dog food 'kalikali.' The concept behind the cineca brand is 'cinematic confectionaries,' so it happened to be this movie that inspired me to make 'kalikali.'"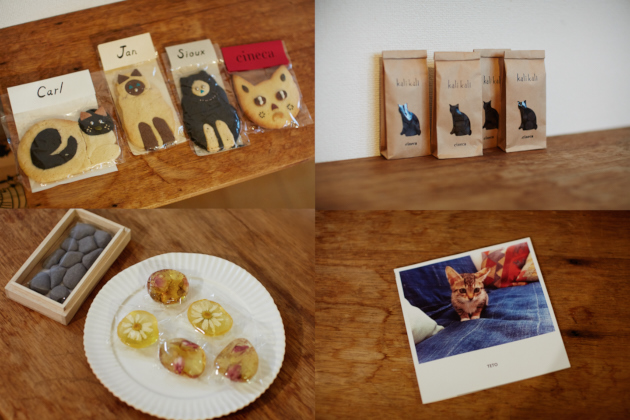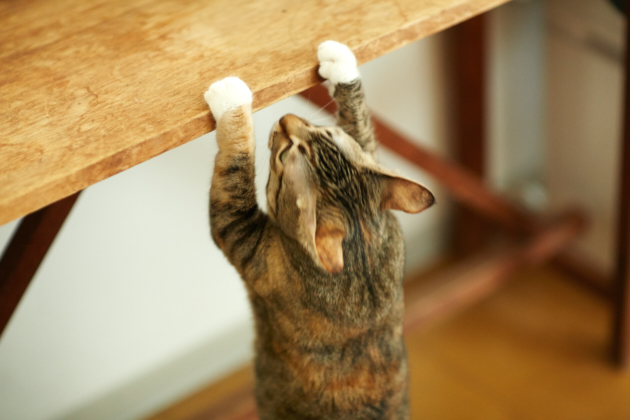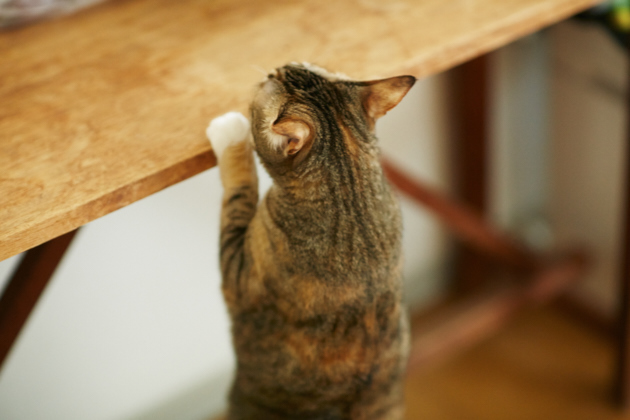 - All cat owners have likely fantasized about trying a piece of 'kalikali' dried cat food while watching their cats enjoy a meal. 'Kalikali' cookies provoke that mentality quite well.
"Actually, baking small cookies is very difficult. Each piece is cut out and shaped individually, and you have to be very carful to cut them out at a consistent size. The smaller they are, the more difficult it is to bake them just right. And I do like to bake them a little crisper than ordinary cookies in order to get that crunchy sound that cats make when they eat their dried cat food."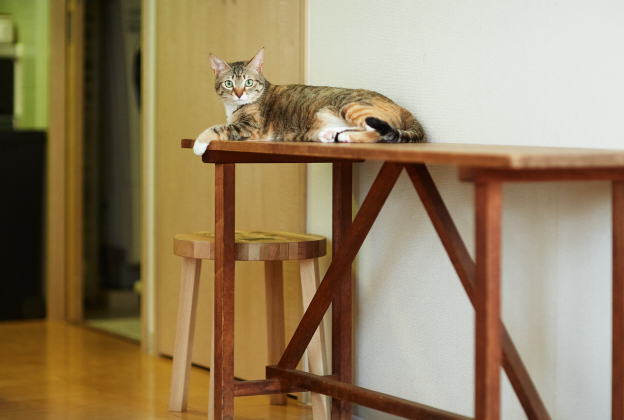 - In addition to your 'kalikali,' it seems like all of your cineca sweets have well thought-out stories that give joy to the people who eat them.
"I don't like things that are merely cute. I want to give them a special twist. As an example of a nice expression, I do think 'kalikali' was a success. However, when you make something good, it becomes a big challenge to follow it up with something even better. The more you work at it, the harder the next challenge becomes. So after releasing 'kalikali,' it took me quite a while to come up with an idea for my next product."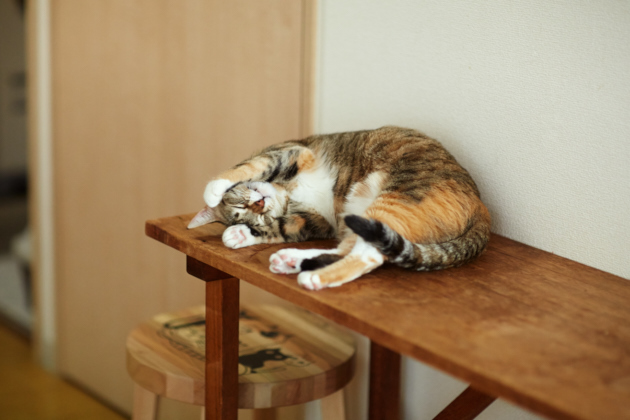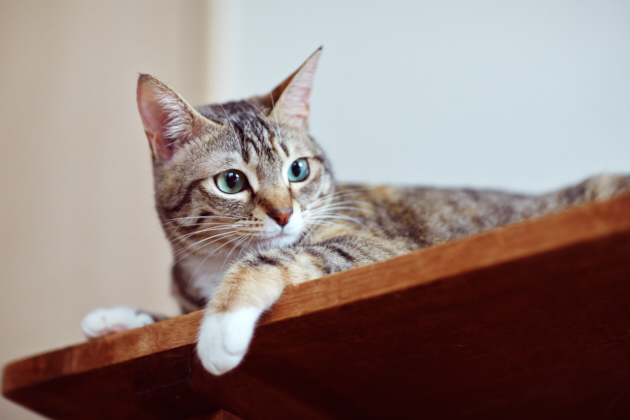 - At the ilove.cat festival last year, your new cat-themed 'Yuruneko Cookie' once again became quite the hit. They sold out pretty quickly.
"Though 'kalikali' was a good idea, I couldn't help but think that it was lacking in a certain splendor that is necessary for festive events. I was thinking about making a confectionary that had a catchy look – a look that connects directly to the intention of purchase. Back when I was working for a design office, my boss told me about this brain exercise, in which you try to come up with something associated with whatever you see. So every time I see something, I try and go 'oh, that looks like… whatever.' That person looks like a mackerel, this person is like a chair, or whatever, it's an exercise to keep my brain flexible. I actually enjoy doing it. So when I make sweets, I'll be thinking, 'oh this almond looks like a cat's eyes, this could be like a cat's nose when cut in half, pumpkin seeds look like the inside of cat's ear,' or whatever. These kinds of ideas are what generated 'Yuruneko' cookies. Using icing is just like drawing or painting, which I guess is an effective means of self-expression. However, I wanted to do something more unique with my sweets. I wanted to bake cookies while really utilizing the ingredients."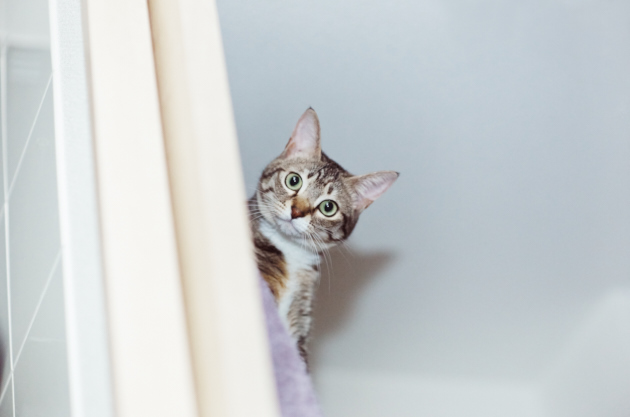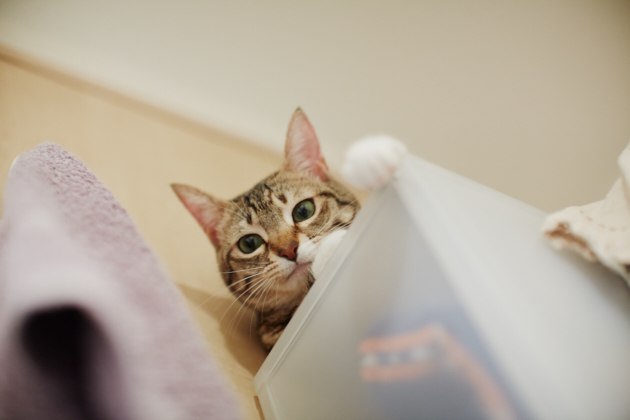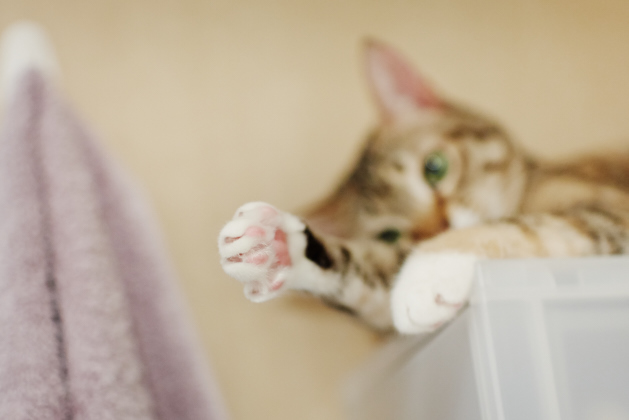 - And your sweets go far beyond the theme of cats. Your entire lineup of cineca confections is visually unique. For example, there's your stone-like fizzing tablets, the glasswork-like flower candies, and your painter's palette cookies.
"I think I can express myself better through sweets than through drawings. When I was at art school, I was majoring in spacial installations and landscaping. But then I thought I might be better at graphic design, so I took a job at a design office after graduating. I baked on the side. And since I was always good at making sweets, I began to wonder if sweets might be the ideal way for me to render the images in my head and best express my creativity. So I attended a confectionary school for a while and then started cineca. Maybe that's what people feel the difference is between cineca and other sweets makers. Recently, I was hired to cater events like the 'PARTY SALE' at PARCO, and it really makes me happy to know that people want to choose cineca out of all the sweets available in the world."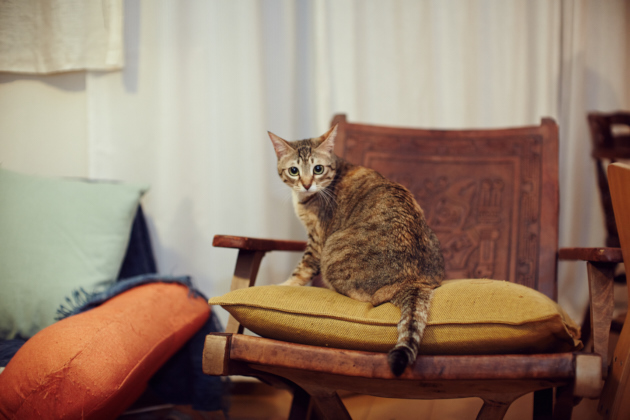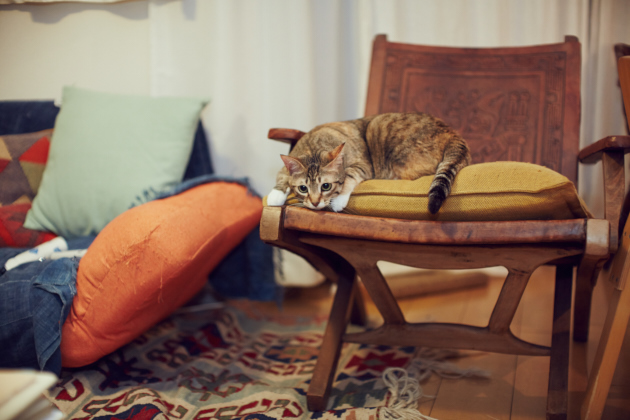 - Outside of sweets, do you also have your own standards for what makes a good cat-related product?
"Things that are just cute are pretty easy to make. So to me, they're kind of cheap. The same goes for cat goods. I think they need to have a special twist, or possess some quality that makes the customers think. Just showing the silhouette of a cat or their paws doesn't cut it. Taking 'kalikali' as an example, I like things that make people conscious of the existence of cats. Those are the kinds of things I'd like to continue making."