Known for his unique drawing touch and art performances, Masanao Hirayama plays an active role in both the domestic and international art scenes. He currently lives alongside a two and a half year-old tomcat named Makoto-chan. Hirayama went as far as to renovate his own home for the sake of his beloved cat. We asked for his ideas on creating a comfortable life for a cat.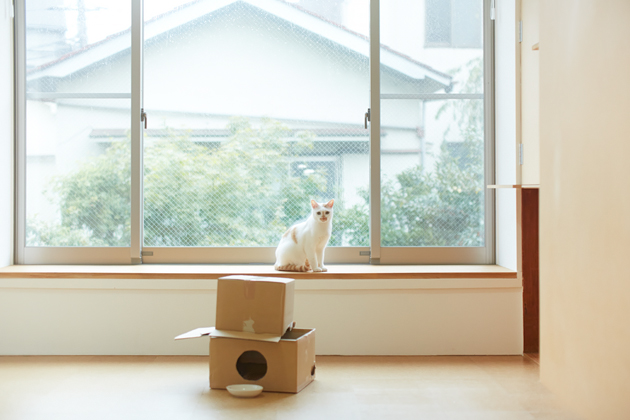 A Cat with a Beautiful Tail
- It's kind of a surprise to see how minimal your house is. There are practically no objects inside.
"There used to be rooms full of stuff, but since I started living with the cat, I put everything in the closets. And then I put up some boards for Makoto to play on. My drawings are kept in places where he cannot reach. If you don't have anything in a room, it's also much easier to clean up the cat hair."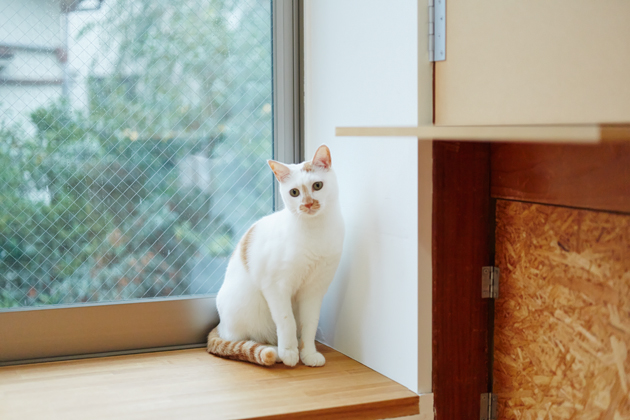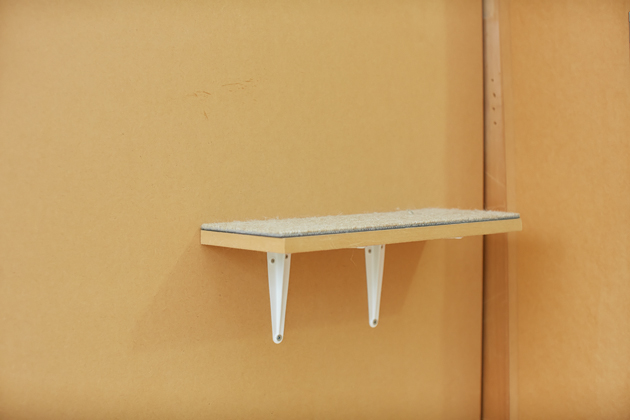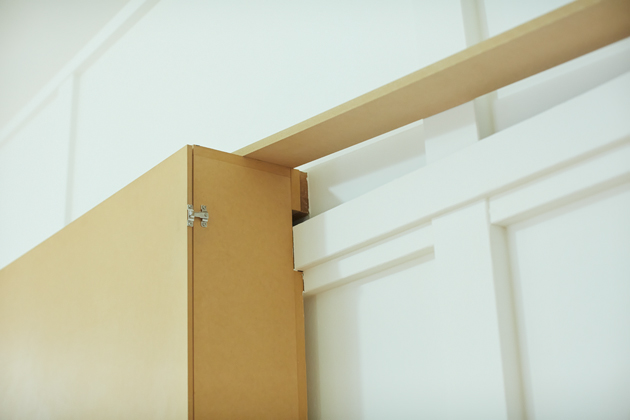 - How did you first encounter Makoto-chan?
"I found him at a pet adoption event in Harajuku. When I started thinking about getting a cat, I initially poked around online to get information. Then I attended a cat adoption even in Kagurazaka, but I just didn't find the right match. When I encountered Makoto, he was 11 months old and had just the most beautiful tail."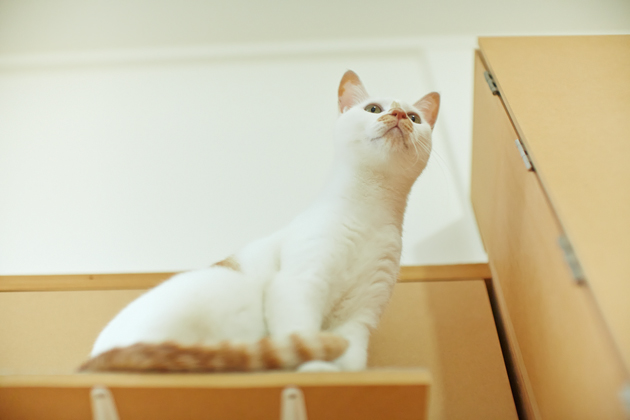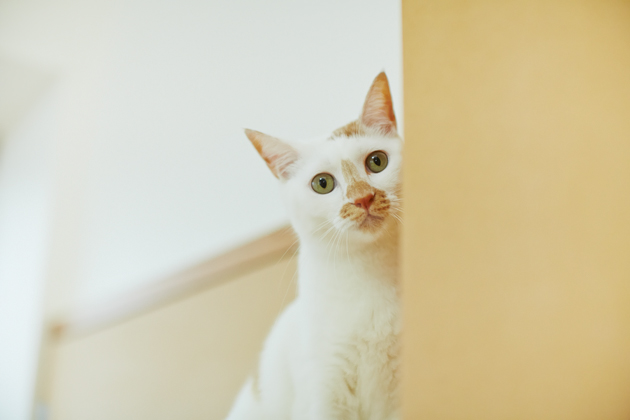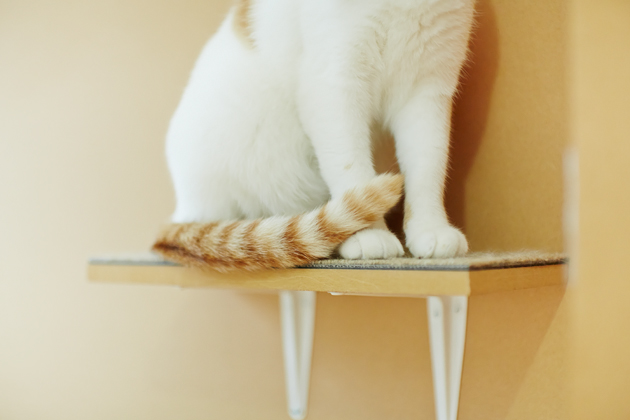 - Had you ever lived with a cat before?
"I have childhood memories of living with a Siamese cat, but I don't remember much. When I lived in Kobe, we had a dog. It was when I moved to Tokyo that I started thinking about getting a cat."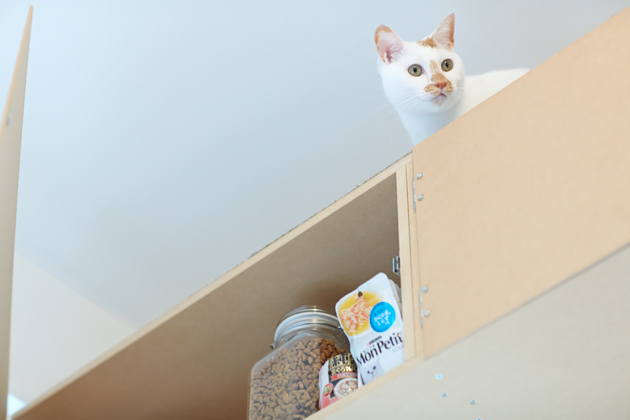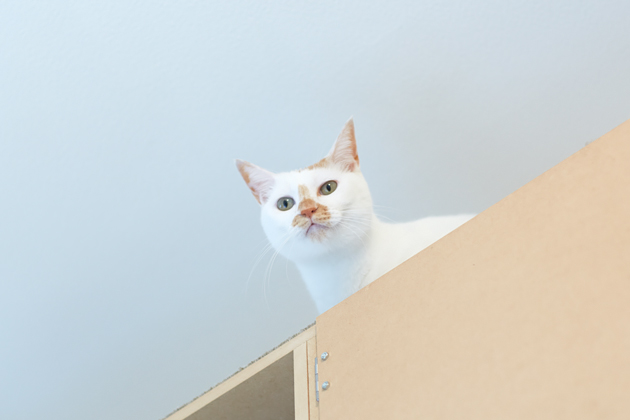 - Please tell us about Makoto-chan's personality.
"As you can probably tell by the fact that he has not come out today… he's really a shy cat. In fact, he hasn't completely warmed to me yet, either. People tell me that cats climb up into their laps, but that has never happened to me. That said, he does like to play. He's most active in the morning, and he never gets tired of playing with toys."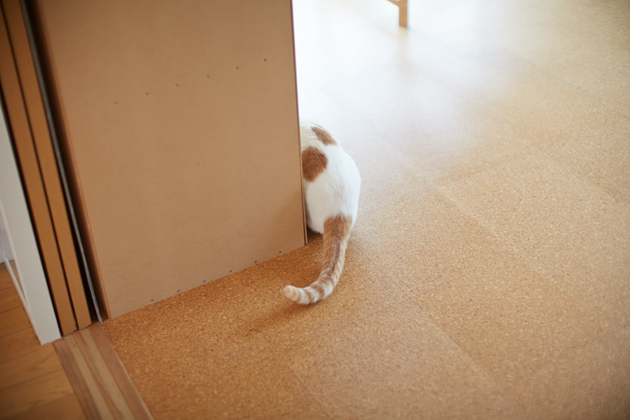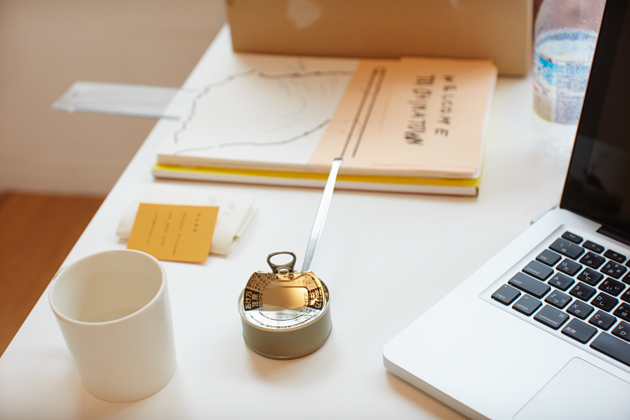 - Since living alongside a cat, have you made any new discoveries?
"I thought he would be a bit more friendly. But unfortunately, that's just not who Makoto is. He slips away every time I try to catch him. I am jealous of people who tell me that they sleep beside their cats."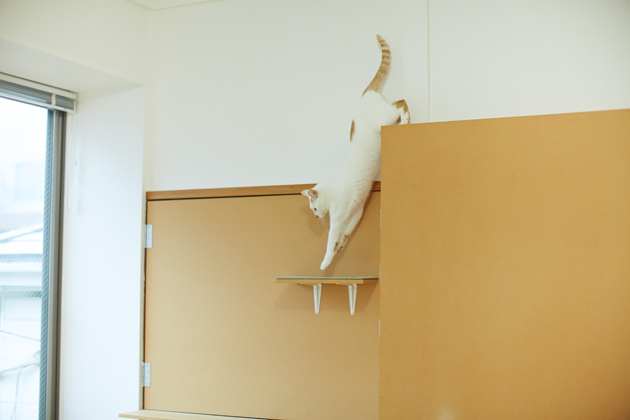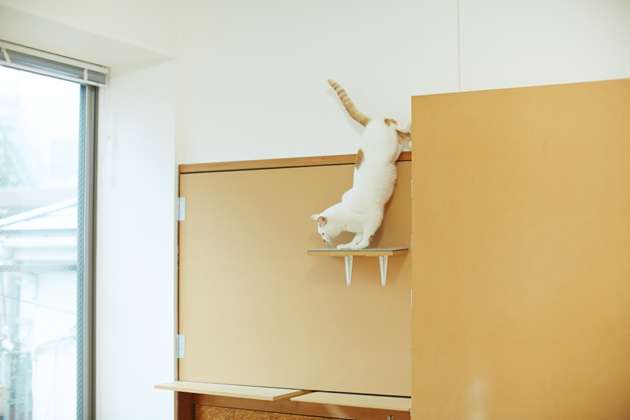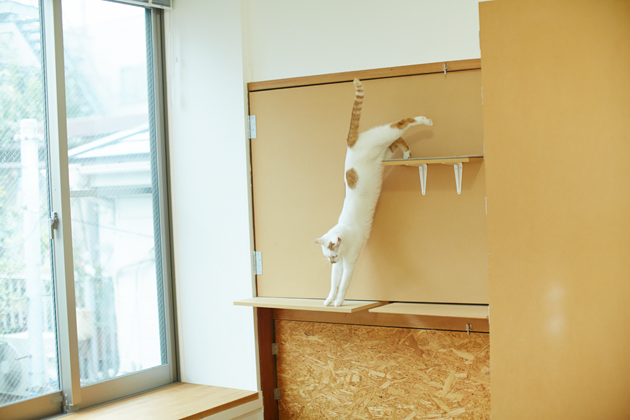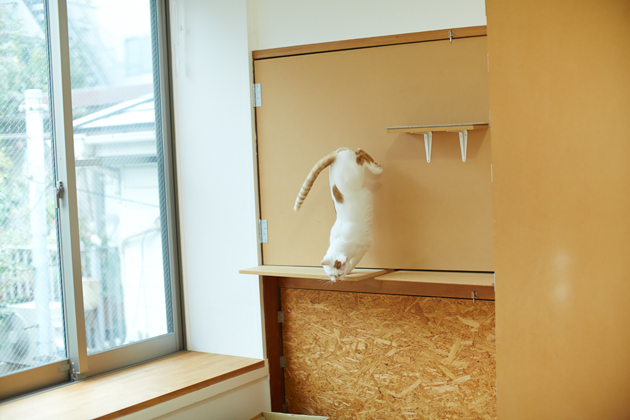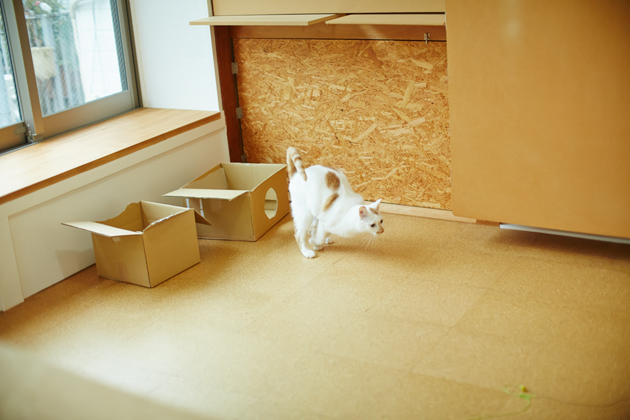 - The sense of distance between you and Makoto does seem to fit your character, though.
"It's definitely good when I'm working. Even when I start spreading out some paper, he'll be like, 'Oh, you were there? I didn't even notice'."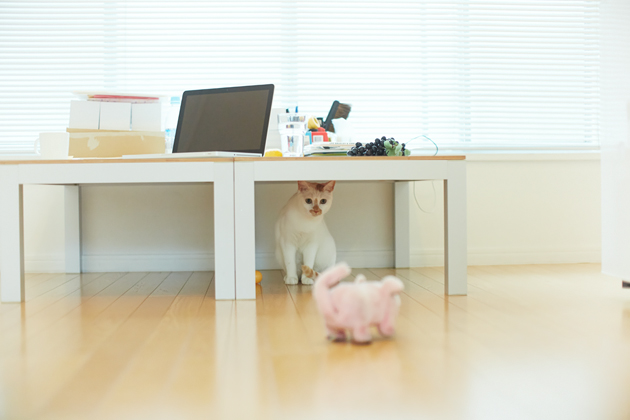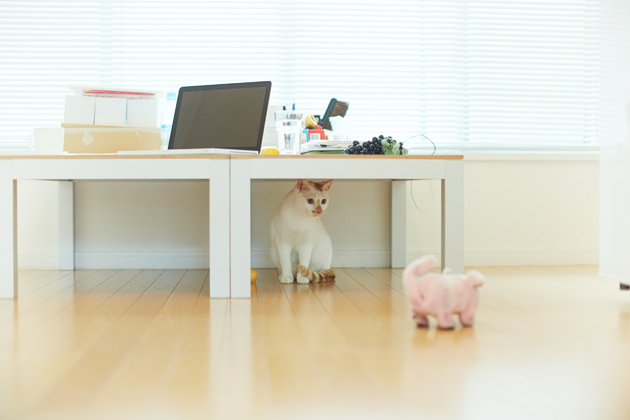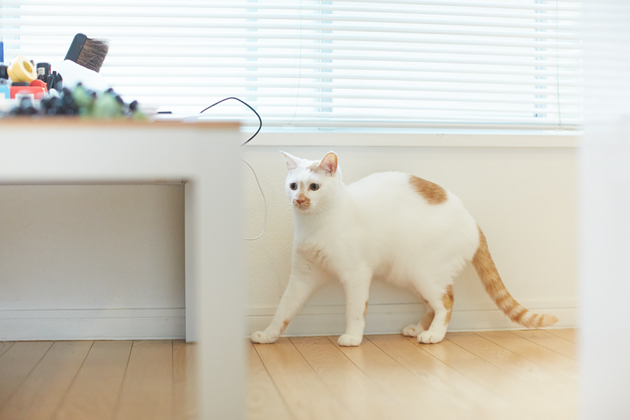 Enjoying a Variety of Expressions
- How would you describe your relationship with Makoto-chan?
"It's as if he is letting me live in his house (laughs)."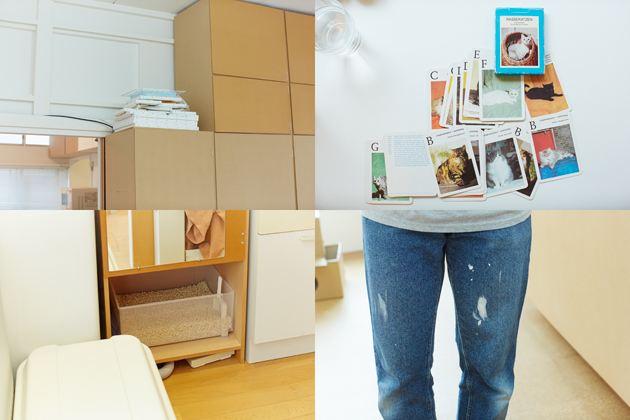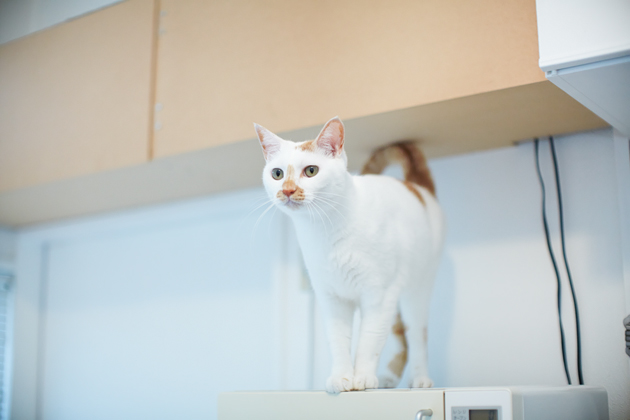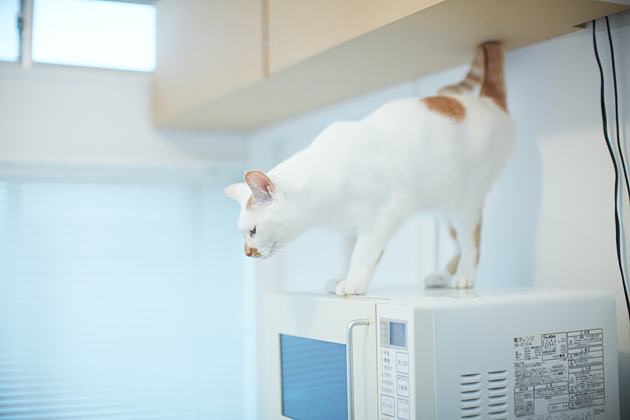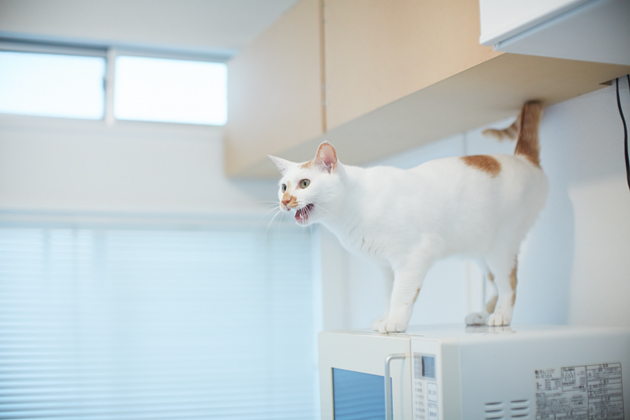 - What's fun about living with a cat?
"The variety of Makoto's expressions. Sometimes he looks angry and other times he looks sleepy. When he's yawning, he looks like some kind of monster. I've wanted to photograph him at that moment, but it's pretty tough to accomplish. Quite a few of my friends are cat owners, like Dango and Mina (Tabei). We all started living with our cats around the same time. We've been talking about having our cats meet up someday."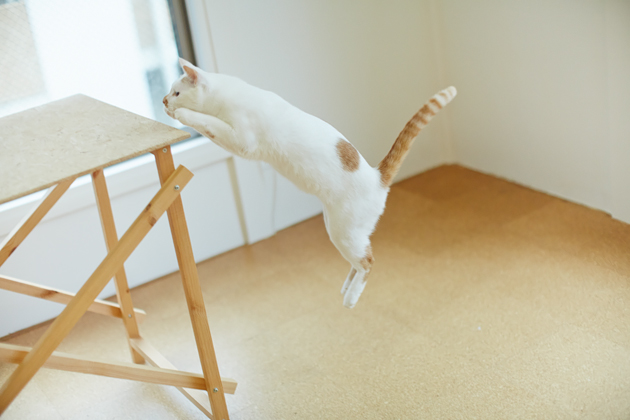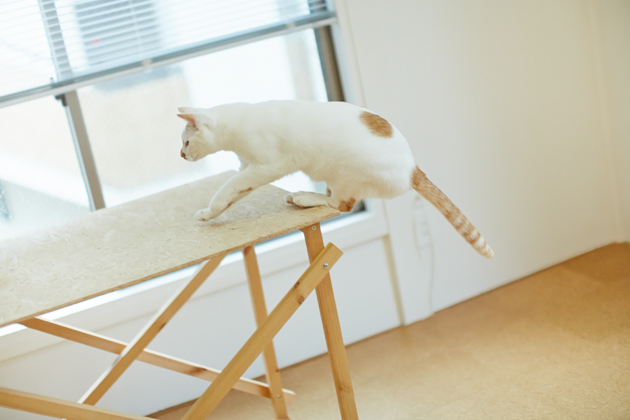 - Do cats ever appear in your artwork?
"I've made a piece based on the movements of a string I use when playing with Makoto. You know, I try moving it around at different speeds in an attempt to catch his interest. I referenced those movements in some drawings."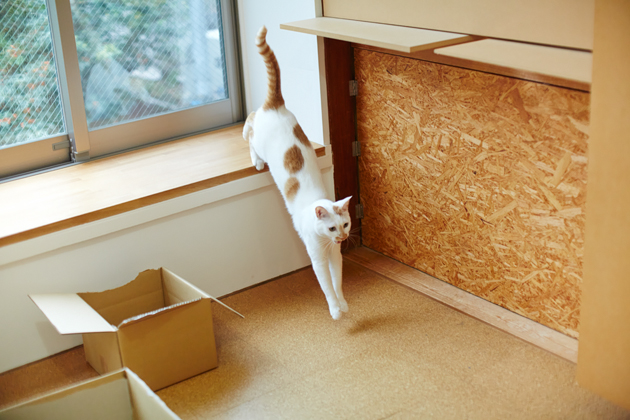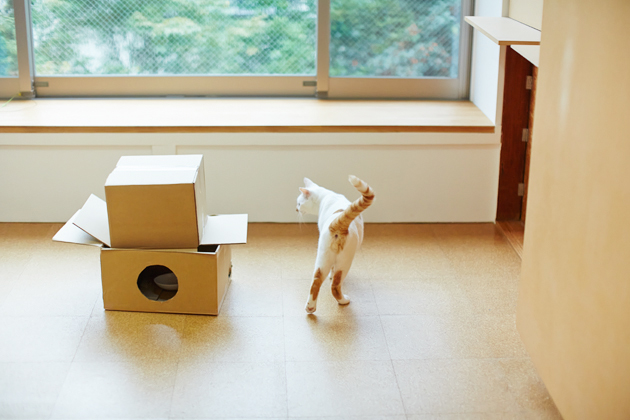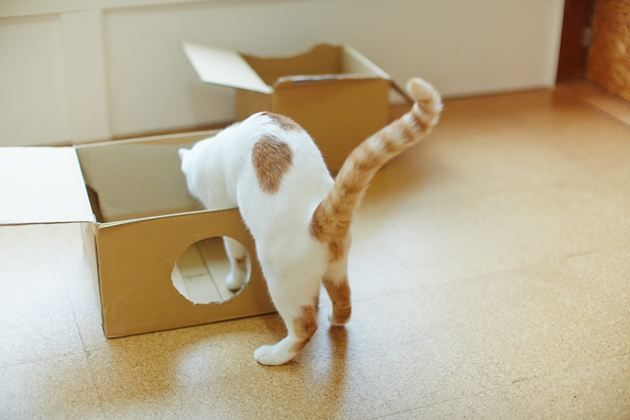 - But you don't plan on drawing the cat itself?
"I can never manage to draw cats well. Maybe they have too many expressions."