Murasugi Seminosuke is a successful actor who plays unique roles in both movies and TV dramas. These include the character of 'Hibiki Ichirō' on NHK's popular serial TV drama titled Amachan as well as 'Baito-kun' on Band Tamashii. He currently lives with a three-year old tomcat named Jelly. Since coming to dwell with a cat, Murasugi says that he has abandoned his hobbies of collecting monster figurines and DVDs. Life with a feline seems to have dramatically changed his life.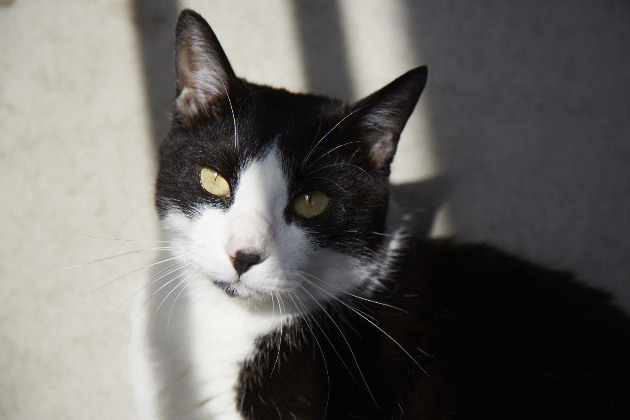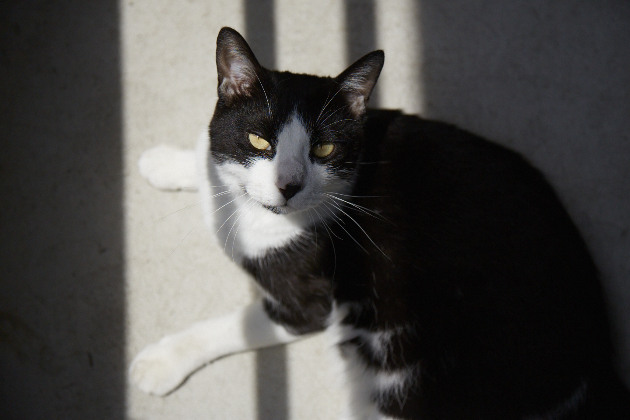 "I always wanted to live with a cat"
- What initially brought a cat into your life?
"My girlfriend had two cats, and she told me one day that there was an adoption campaign seeking people to take in cats. There were 3-month old kittens. Though there was another kitten with more of a mackerel pattern, I instantly decided on this guy. I took the name 'Jelly' from musician Imawano Kiyoshirō's nickname when he was playing in the Timers."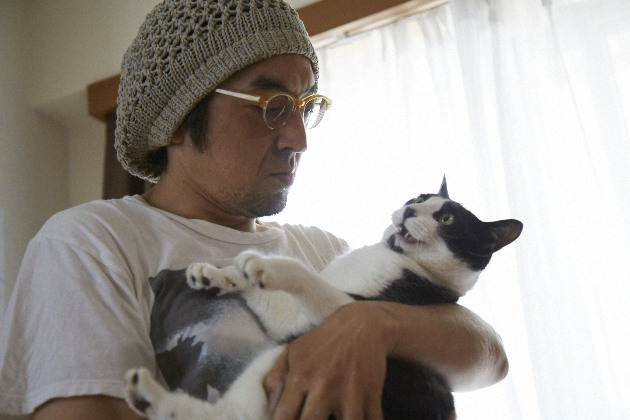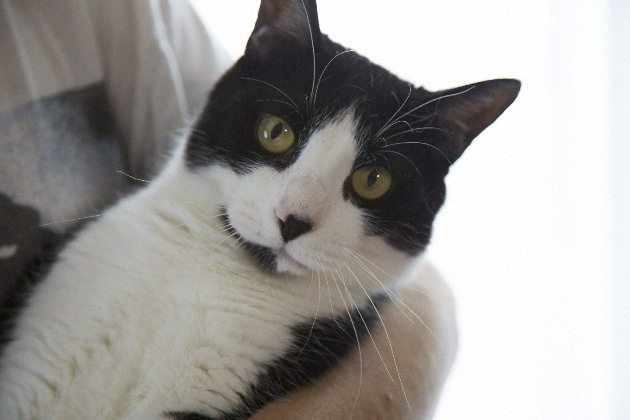 - You weren't satisfied just playing with your girlfriend's two cats?
"We can't meet that often because she lives in the Kansai area. Moreover, I couldn't give up the idea of having my own cat. Since I was a child, I've always wanted to live with a cat. However, we could never take one in because my family ran a business from home. So instead, I would go over and play with my relative's cat. Pretty much all the time I longed to live with a cat."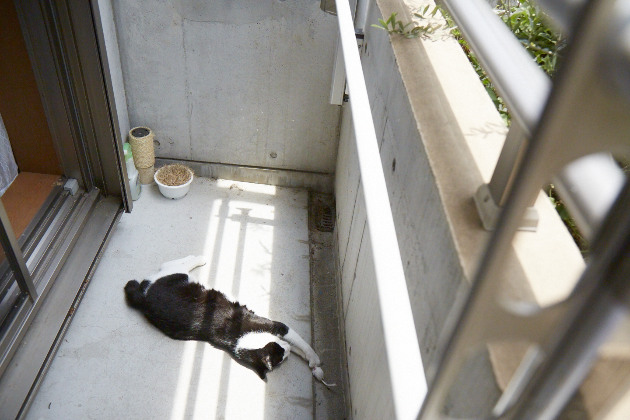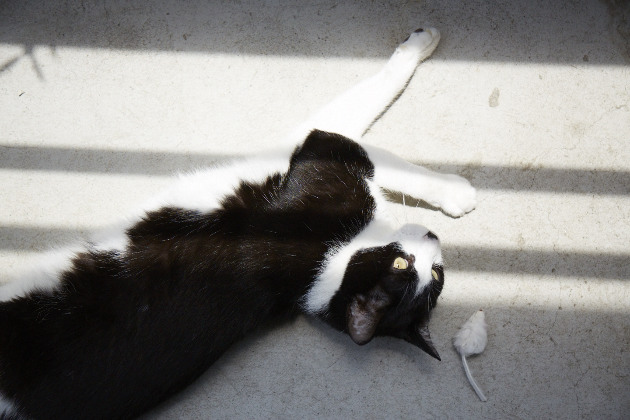 - Why were you so fascinated with cats?
"I can leave them alone, and they can leave me alone as well. This kind of comfortable distance may be the reason. Before I actually had a cat, I was worried that keeping one may become a big hassle. But in fact, cats are very independent - more so than I would have ever imagined. Though he sometimes cries, acts like a baby and gets overly demanding, Jelly has never once truly misbehaved since coming into my house. He is almost too good to be true. Even when he meets up with the two cats at my girlfriend's house, he gets along well with them."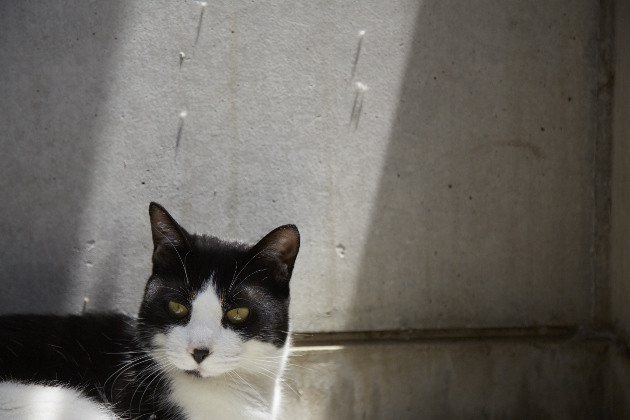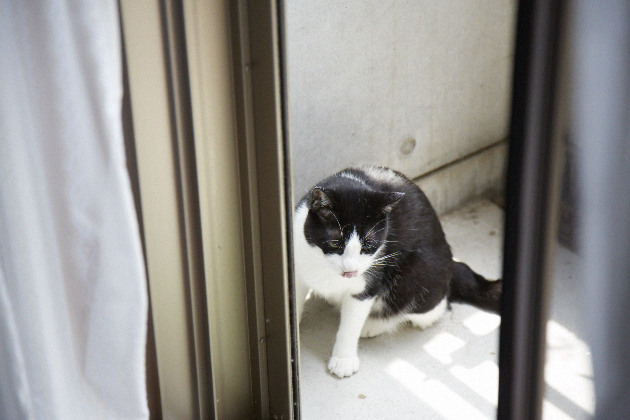 Cats "Fill up the lonely void"
- What kind of personality does Jelly have?
"Just like me, he can't concentrate. Right in the middle of doing something, he'll get distracted by something else and start looking around. He will often give me a big 'meeeeeeeeow'. In fact, it sometimes sounds like he is just trying to say, 'more food' (laughs). In such situations, I give him some dried food. He only eats meat-flavored food. He has no interest in tuna or other fish-based foods."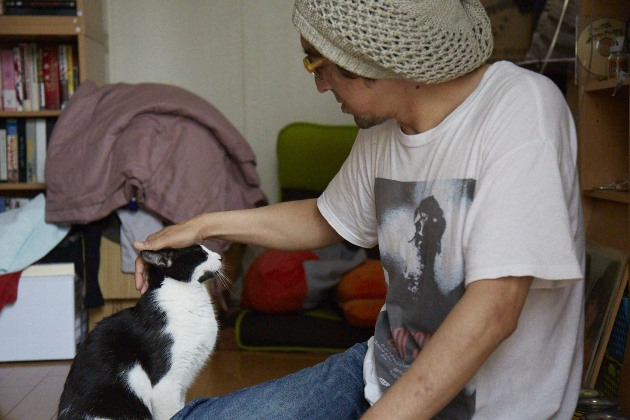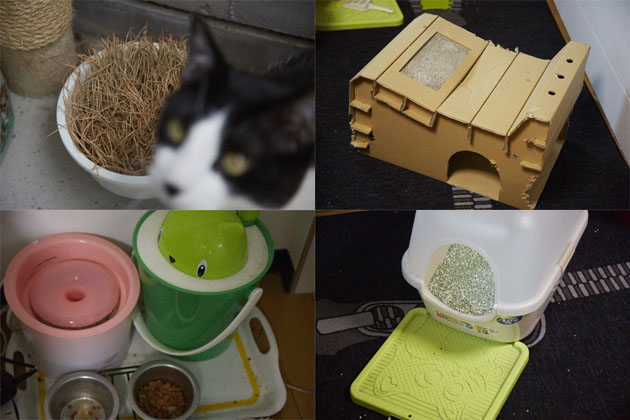 - You have so many toys, cat-towers and other cat-related goods...。
"I cannot help buying them. To be honest, I used to collect monster figurines and DVDs in order to fill up the lonely void in my single life. However, once Jelly came along, my passion for collecting things turned to buying him stuff."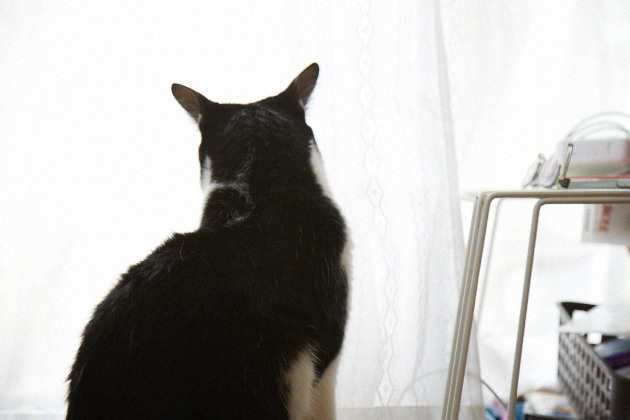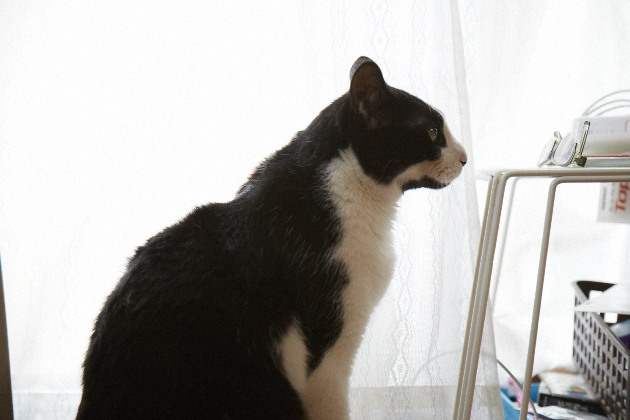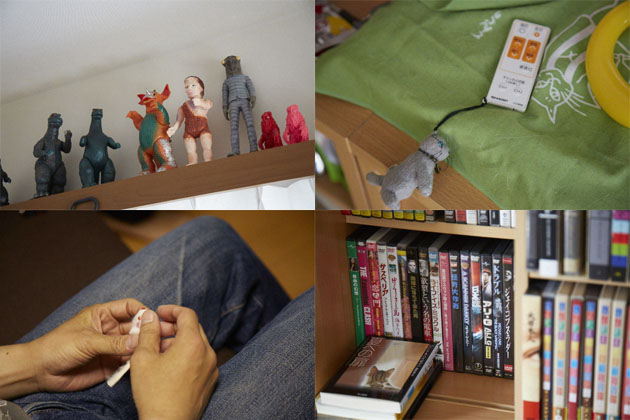 - You do seem to be quite the collector. Do you also happen to be the dependent type? (laughs)
"You may have a point there. Take DVDs, for example. Though I know I don't need so many, whenever I get stressed out I just can't stop myself from buying a ton of them at once. I also like watching them again and again. Sometimes I would even buy Blu-ray discs of movies I already own on DVD. Now I have shifted to buying cat-related items. However, it seems that Jelly is not attracted to expensive cat toys. That's why I use the cat tower as a display stand for my figurine collection."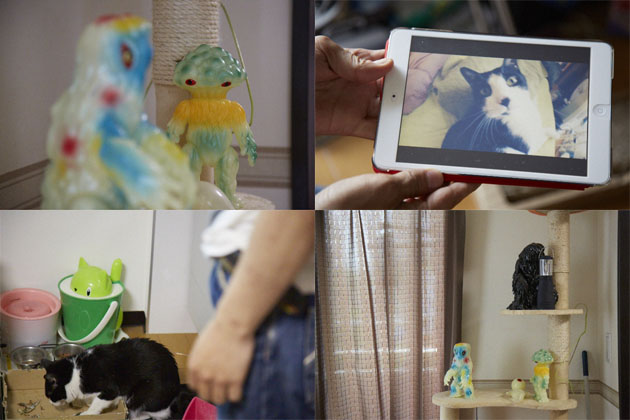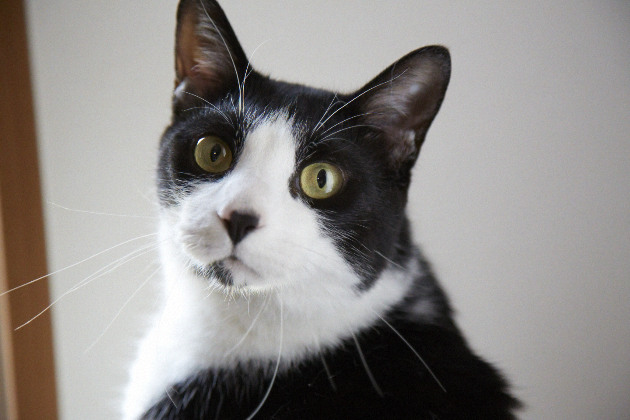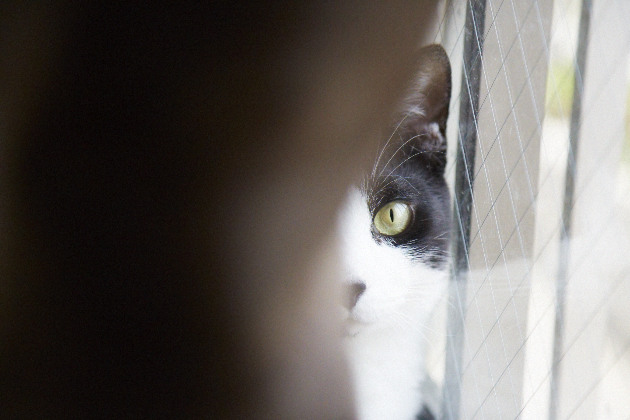 - What is the biggest change in your life since coming to live with a cat?
"I think the most significant change has been mental. Because I can't drink, I didn't really have a way of releasing stress. I'm not a very cheerful person. However, now i show off photos of my cats when at a shoot. My friend introduced me to an iPhone application for editing movies, so now I've produced a ton of movie clips. My photo albums are filled with shots of Jelly. Sometimes, when I am staying at a hotel alone on a location shooting or some other similar situation, I can sense his presence by catching a glimpse of a slightly opened door or by feeling weight on top of my futon. After all, we both depend on each other. The way he wants to be spoiled when nobody else is around is completely different from when there are no other people or cats around. Maybe he is trying to look good in front of others."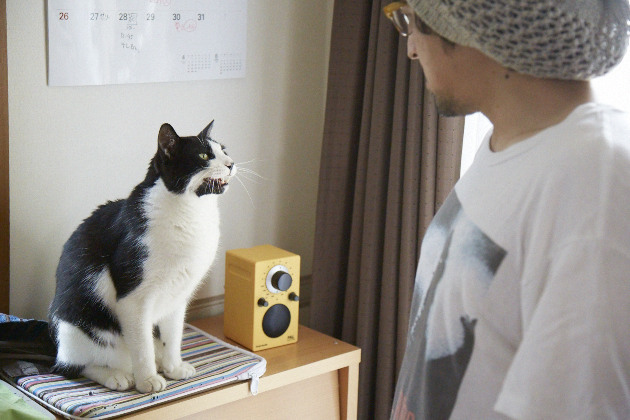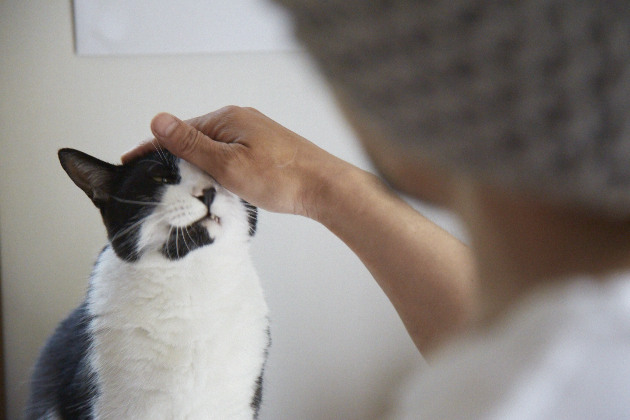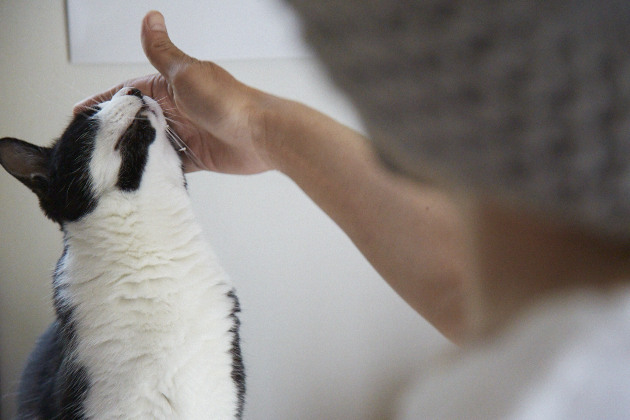 - Do you think that you and Jelly share similar personalities?
"Yes, of course. Maybe it's just my own personality that makes me look at him in this way. Abe (Sadao) also has a cat, but he is originally a dog lover. He always has been. So his relationship with his cat is completely different than mine and Jelly's. When I told him that I got a cat, he said to me, 'disgusting!'".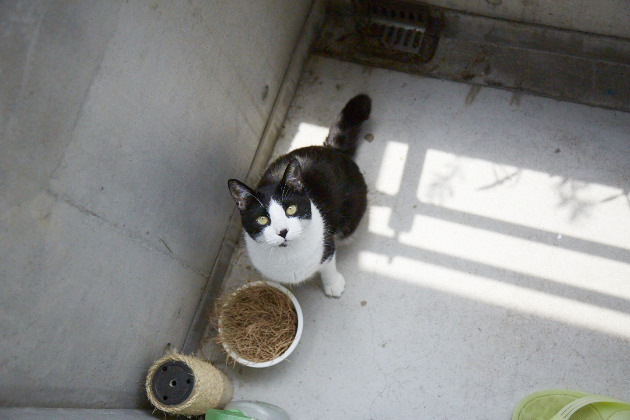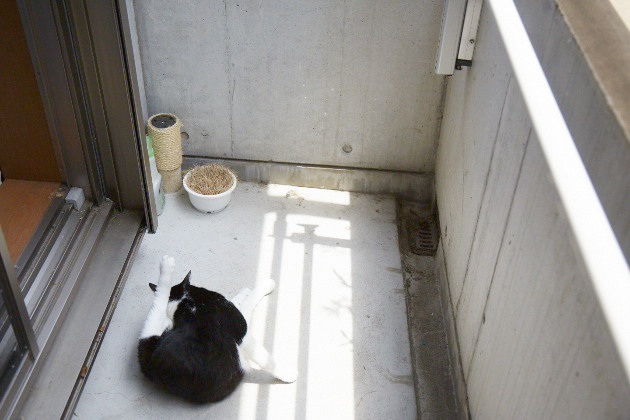 Yearning for a 'Harry and Tonto' Role
- Besides cats, is there anything else that you see yourself in?
"When I'm acting, otaku (geek) type roles are easy for me. I have some of that in me. When I have to play the same role for a considerable amount of time, for the run of a play for example, I will often copy a similar character that I saw in a movie. I will tell people later on that I played the role while copying such-and-such a character in such-and-such a movie, but nobody seems to get it. I guess I am more of a 'sampling' type of person as opposed to a 'reflecting' type of person."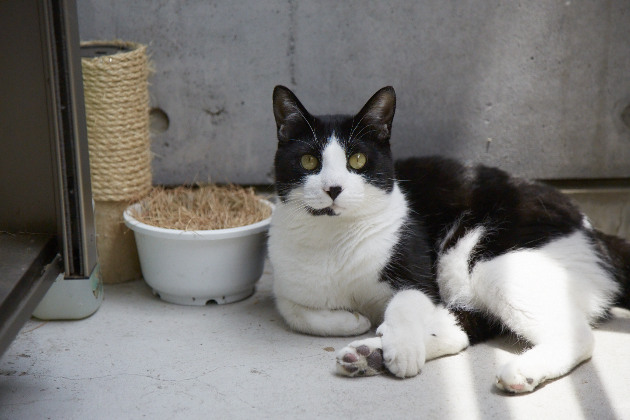 - You often play otaku and other suspicious characters. Have there ever been any unexpected offers?
"I often do play stalkers as well as victims. However, I was recently offered roles such as a father and a powerful business man. I'll get to be dressed in stylish suits instead of the usual, ugly polo shirts and pants."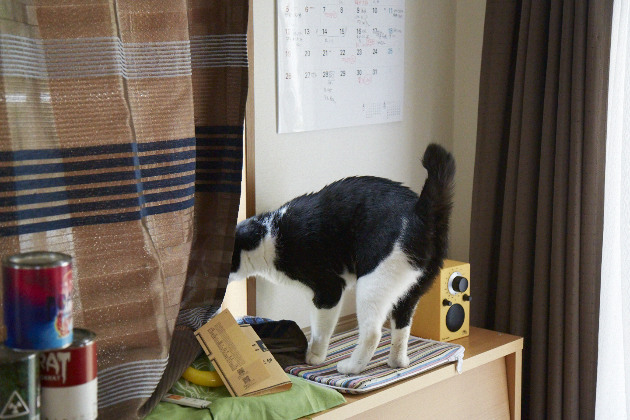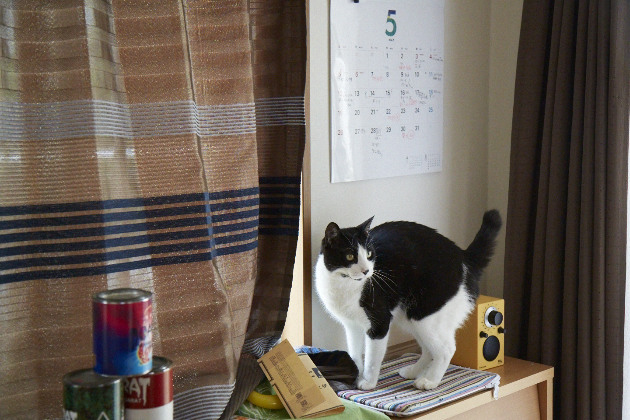 - What is your favorite role?
"I like playing bad guys. I get to pull out the things I hate within myself and use it. I guess I'm kind of 'reflecting' myself for those kinds of roles rather than just copying. Next to that, I'm pretty good at roles that involve ESP, psychotics and other Sci-Fi and horror elements. In Group Tamashii, you may think that I'm just showing my natural self, but in fact there is a script and a stage director is standing right next to me. Honestly, I would feel much more comfortable working on my own." (laughs)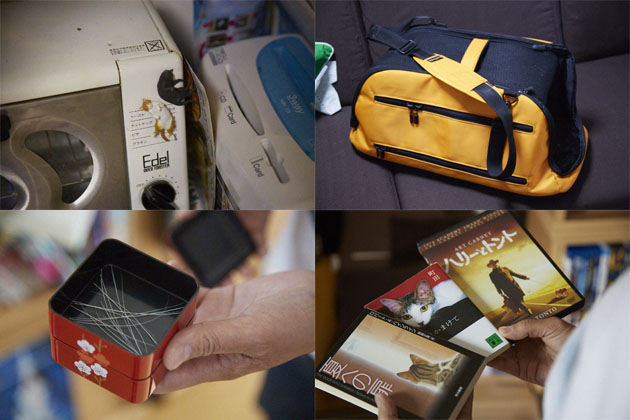 - Do you have any favorite cat books or movies?
"I have always liked books by Machida Yasushi. In particular, I my favorite is 'Neko ni Kamakete'. I still read it. My favorite movie would have to be 'Harry and Tonto'. When I am a bit older, I want to play a role like Harry."